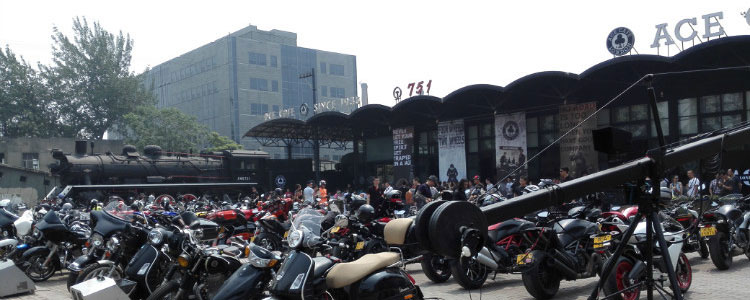 ACE Café, UK–the world's most famous Bikers gathering place in London has been around for over 50 years.

Over every weekend and holiday times, hundreds of Café Racer bike lovers and other bikers gathered there to talk bike and enjoy the festive atmosphere turning this Café racer into a cult that has been gathering momentum especially in recent years as Motorcycles has been making a big turnabout where more and more riders are favoring this particular trend of Motorcycling.

In 2014, a Motorcycle lover in Beijing made a partnership with ACE CAFÉ, UK to open up China's 1st ACE CAFÉ in Beijing making China 1 of the many Ace Café chain all over the world.

The New ACE Café is located in one of the most famous trendy region of Beijing's 798/751 ART ZONE where many Art Galleries, Trendy F&B establishment, theatres are located so this has given the ACE Café a most popular gathering place for up market visitors especially high end Bikers.

Being a Bikers related establishment, ACE CAFÉ need a high end Motorcycle part of the business so to boost the root of ACE Café culture, and BG was invited to be the 2 wheels operation partner of Ace Café.

Despite Ace café was opened for business since late 2014 with also BG's Beijing branch showroom and tech center, it wasn't until the 12/7/2015 Sunday when ACE CAFÉ launched its official opening of the Café to the public which coincided with the arrival of 15 Bikers who rode the 20,000 km and 80 days all the way from London to Beijing in China.

The Ace café opening was to be a grand event, so the ceremony was to be in 2 parts with the lunch presentation of the Grand opening and also a welcoming party for the UK bikes.

The 12/7/15 Sunday was as Hot as the event itself, with the hottest day recorded in Beijing for many year at a staggering 38*.

Despite the "HOT"event, close to 200 big bike riders came to the party adding to the few hundred more guest, the day time party was in full swing by lunch time and the arrival of the UK bikers pushed the event to its climax.

There was a VIP dinner party after the day time event, A lot of BG VIP came and with the night time temperature in a much cooler degree, all the guest, the riders from UK, VIP's all have great fun and the party lasted till late in the night.

The Opening of the ACE Café in China opens up a new page of China's big Bikes' concept, Motorcycles are no long a commuting tool but a statement of Trendiness, with the ACE Café and BG combo, Northern China bikers will now has a great place to gather to talk bikes and also a BG showroom which they can see all the latest high performance products, Apparels and a top spec tech shop so that theirbikes can be well taken care of , and this is only the beginning of this new concept of combining Motorcycles, Food and Beverages,motorcycle tech services, and more ACE Café is already under working in various other regions of China.

We'd like to thank all our invited VIP spending the day with us and for ACE Café as a partner in this new China Motorcycle concept.